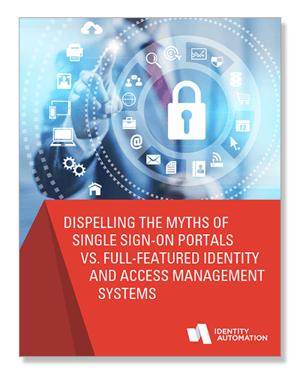 It's not uncommon for the terms "single sign-on (SSO) portals" and "identity and access management (IAM) solutions" to be used interchangeably.
However, while these two solutions do offer some of the same features, a full-featured Identity and Access Management (IAM) solution's capabilities go well-beyond those of an SSO portal alone.
Download our free eBook - Dispelling the Myths of Single Sign-On Portals vs. Full-Featured Identity and Access Management Systems - to learn:
The true capabilities and limitations of SSO portals

The differences between SSO portal and IAM solution capabilities

Who can truly benefit from an SSO portal

How to determine if a full-featured IAM solution is a better fit for your organization's needs
… and more. Choosing an IAM system is an important decision, and it must be made wisely.
Be sure you're making the right investment.
Download the eBook by filling out the form on the right.